When i was a lil kid, i never like monday, because i felt like i had to wake up early for school after wonderful refreshing weekend. and it was torturing.and at school we have this ceremony every monday when we had to stand up for
1.5 hours
. Tiring... see.. nothing's good about monday.
But after going to high school, i still do remember most of my fav subjects are on monday, and that's the day we can go to movie theatre and buy tickets for
cheaper price
. So i start to enjoy the day :)
How do you feel about monday ?
I got 2 good news to share today!
First , It's the new week of Penny black challenge!! This week is
colour
scheme
challenge
. You can find the detail
HERE
. Go participate and submit your card for a chance to win 3 stamps from Penny black collection. SO GENEROUS!
I also want to mention that the new spring catalog is great! love all the new stamps. You should also go to my friend's blog for more inspiration ,
Kathy
and
Elizabeth
.
Second,thanks a lot for sending me emails for
my second digistamp
.Now I have a new character freebie to introduce! My friend, Jenny guessed it right! I drew a bear! His name is
Mi
(pronounced like : Me - in thai language, that means Bear)
If you wonder why i choose thai language, that's because i think the name is cute, and my bf is Thai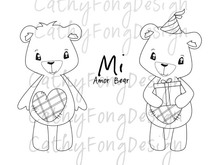 if you happen to like Mi, just email me to
cathyfongdesign@yahoo.com
and choose
ONE ONLY
digistamp you like. I will reply and send the file to you.
I will share this digistamp until this
SATURDAY!!
I'm using my own stamp to create a birthday tag. Sorry for the little smudge :-p
Hope you love Mi as much as i do
Thanks for viewing